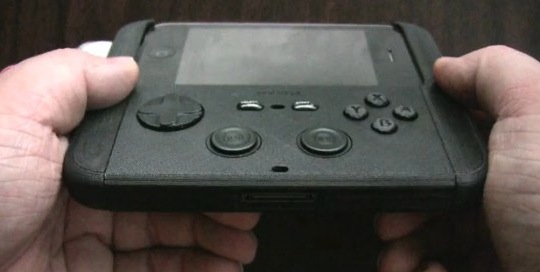 The basic iControlPad will be a simple sleeve into which the iPhone slots.  It will have a D-pad plus two analog joysticks, four control buttons and two function keys (Start and Select).  As for the second upgraded model, that will also squeeze in a battery which can be used to recharge the iPhone
/iPod touch rather than drain the device's own power during gaming.
There is still no word on pricing, or exact release dates, but the iControlPad team are suggested people sign up to their newsletter for information.  Supplies of the first batch will be limited, and we're expecting this to sell like the proverbial hot-cakes.
via
TopiPhoneNews.com:

Category: Apple News
I am the Owner/Founder of WJDDesigns.com & GizmoNinja.com , I was born in to a world that was emerging on the frontier of technology. Within time I self taught himself everything from coding to graphic design and wanted to bring my creations to the public by the masses. With the new growing world of mobile applications I could achieve just that. I am always looking to learn something new and provide the best service and information I can. I am really a cool and calm type of guy who is more of a lounge party setting then going to the loudest rock concert ever. When I go out to eat at fancy places the ambiance is what I comment on first, if the ambiance is poor then my food doesn't go down as good. I look at everything around me that has different shapes and colors which creates ideas I use in my everyday projects. I try to live life to the fullest when life dishes out free time. I love to teach everyone I know who isn't as tech literate as myself and give them more information to better their decisions. The progression in technology is life, it's my life.