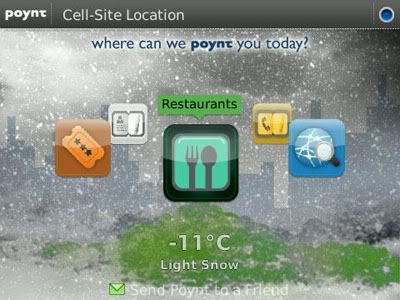 After loading a new OS hybrid, I had to re-download Poynt, and was surprised to see a new version. 1.5.3.14
The main screen is new as the buttons are configured in a sort of 3D circle and spin around with a swipe of the screen on my Storm2, (which means this is probably an upgrade solely for Storm 1 & 2). They have added screen transitions that are also pretty cool.
I checked out Poynt's website and did not see any mentions of an upgrade. I also re-loaded this app about 4 days ago and it was not this version,( Poynt doesn't seem to "restore" well for me on an OS/hybrid change, so I don't restore it…I just reload it.). It seems to me that this is an aesthetics only change for the Storm user, but it looks a lot sharper. Check it out, I think you will be pleased.
Poynt is a free, all-in-one local search application for your BlackBerry® smartphone. I acquired this version from Blackberry App World
You can visit their site for more information as well:
source:  blackberryos.com
Category: Mobile News