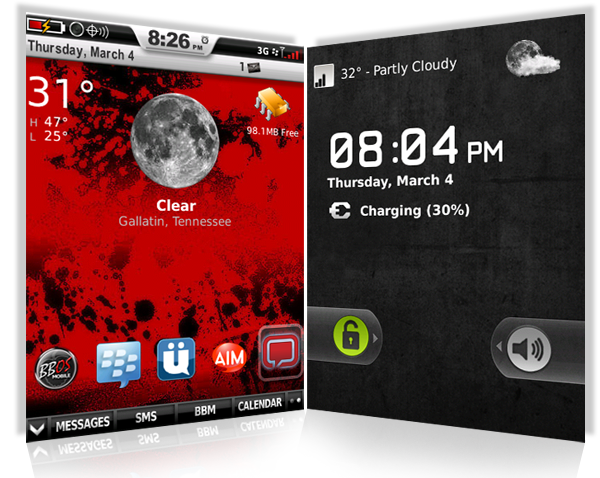 BerryWeather 2.2.01 from Bellshare has just been released. Ultimate Lock 1.1 from Epic Applications has also just been released. Coincidence? Actually no, it's not. BerryWeather 2.2 has been updated to now include 3rd party support along with some bug fixes. This allows other developers to actually use BerryWeather within their apps. And the first app to include this ability is Ultimate Lock. Ultimate Lock 1.1 adds several fixes and improvements including the integration of weather conditions on the lock screen.
BerryWeather 2.2 may look like a small update on the outside. But the potential is the the big new feature. Currently only Ultimate Lock is supported. But with the huge popularity of the app there are sure to many developers joining the BerryWeather party.
Ultimate Lock 1.1 has a few more added features:
Fixes:
Fix for background resetting on reboot
Lock on Timeout will not lock if charging and set to Unlock on Charge
Will not allow you to both disable lock key to unlock and trackball
Improvements:
Full integration with Berry Weather! First app ever to do so!
Ability to show several different versions of weather (location + temp, location + conditions, etc) on lock screen
Options screens broken out into 5 clear sections on different pages for easier navigation
Improved registration dialog
Ability to show in system menu
Optional unlock sound
Notifications for BBM groups
(Storm) Ability to lock in portrait (only when launched from icon, side key, or app launcher)
Can allow or disallow lock key to unlock (like default lock) and Mute key to switch profiles
Ability to show or hide the clock and date
Ability to show or hide the battery status
Ability to automatically reset LED notifications (including Berry Buzz) when locked
Heavily optimized core code for faster boot, less battery drain, and less memory usage
SOURCE: BLACKBERRYOS.COM
Category: Mobile News
Blackberry addict, love testing new themes and apps. Volunteer fireman, New Jersey Devils fan.