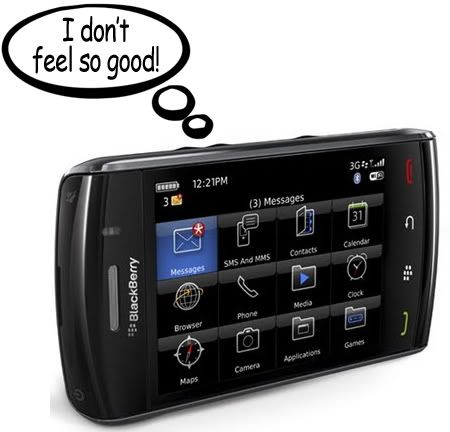 I first heard about this a few days ago when BerryScoop dropped the news. Now BBleaks seems to be getting some reports as well. The report is that RIM has officially acknowledged that there is a defect in the 9550. The defect can cause the touchscreen to become unresponsive and unclickable. Reports are coming in that there is a new hardware revision on new 9550s and "Certified Like-New " replacements. Also, it's said that VZW will be replacing units that have the defective screen. I can, however, confirm that this has not yet gone into effect. I just got off the phone with a Verizon tech agent and he was not able to send me a replacement unless I could reproduce the issue in a VZW store. Problem is, it's random and not reproducible. So as of right now this is not in effect yet. I hope they do it soon because my unresponsive left corner is driving me nuts. We will keep you guys updated on this as more news unfolds.
UPDATE: Call #2 got me the Storm 2 replacement. I didn't mention the recall nor did the tech rep. After asking if I had tried a device wipe and restore he finally said thats all he could suggest and agreed to send a replacement 9550. Now I'm anxious to see if this new device fixes the screen issue.
UPDATE #2: Numerous users are reporting that Verizon is sending out replacements if you call.
Source: BlackberryOS, natemz
Category: Tech News
I've been a gearhead my whole life. This lead me to product and electrical design for a major auto maker. My love for design, computers/electronics and tinkering with gadgets forced the purchase of a smaprtphone when they first came out. I've stepped up through the ranks, WinMo, Blackberry (still have my Storm) and now an Android device. While using the Storm, I was a huge fan of themes, which brought me to WJDDesigns. I was honored to become part of this great team and could not be more proud to now be developing my own themes. I hope you enjoy what this team and our site has to offer.