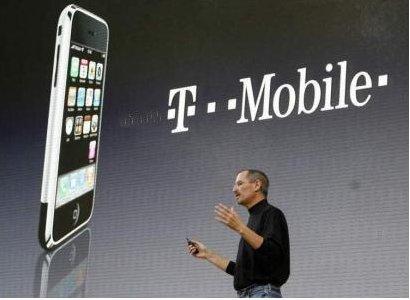 So here we go with another rumor pertaining to the iPhone, T-Mobile and our hopes and dreams for its arrival. Whatever you think about the iPhone, its appearance on the magenta network would certainly give a boost to a fourth place T-Mobile. Deutsche Telekom CEO Rene Obermann hinted in an interview today that the T-Mobile USA branch is indeed hoping to land a deal for the iPhone.  Speaking to the Financial Times CEO Rene Obermann didn't detail any specifics regarding the talks but hoped to have a deal in place as soon as late 2010 or 2011. Interestingly enough he emphasized that Android would "support the network in the meantime."
While of course Apple declined comment for the story and never discusses future carrier plans T-Mobile is a likely partner though certainly not the anticipated front-runner. With the largest customer base in America, most expect Verizon to pick up the next iteration of the iPhone though with technology similar to that of AT&T, T-Mobile is a more likely fit. While Android fans on T-Mobile may lament the arrival of the iPhone, there would be little question as to whether or not it could help the T-Mobile USA branch. The iPhone brings the customers as AT&T has discovered with consistent records of customer ads every quarter. With AT&T network troubles prominent in the news and T-Mobile making vast improvements it might be opportune for them to seize on AT&T troubles. For the moment, it's all rumor and speculation but when the Deutsche Telekom CEO speaks, we listen.
SOUCE:TMONEWS.COM
Category: Mobile News
Blackberry addict, love testing new themes and apps. Volunteer fireman, New Jersey Devils fan.