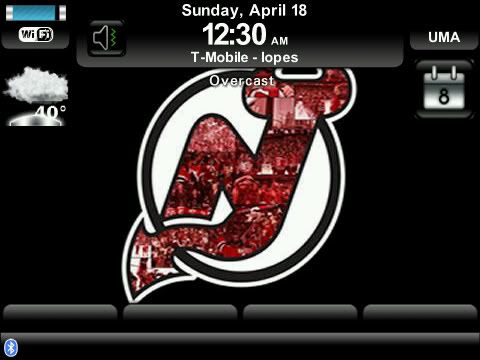 Well John P has done it again. If you liked the first impact I really fell you will love this one as well. This theme is customizable for the user now. Like the previous version of impakt the theme allows you to have everything at your finger tips without having to hit many buttons.
Home Screen
 Well like the first version of impakt this theme has 4 tabs with icons in them. Has two slots on the top left and right perfect for a weather app and your favorite app. This version of impakt is also different from the previous version in other ways.  The old version only had one tab that was user defined icons. The major update on impakt 2 is that every tab is user defined.  Now in my opinion have the option of choosing what apps I would like in each tab is a HUGE plus for me. I'm not a huge fan of having locked icons but I am willing to use them, so having this theme changes everything for me.
Each tab is not labeled this time around because of them being all user defined icons.
 The icons are different as well. They are smaller and have a black and gray tint to them which really make them look good with the way the theme is colored. The theme looks very professional and has a very clean look to it.
Conclusion
 For anyone that has loved the impakt version one will really love this version. Again like all of John's and Wjd's themes this one is extremely smooth. Moving from tab to tab and icon to icon is great. One of the best features is when you scroll up to the weather icon it closes all the tabs and then the theme becomes wallpaper friendly.
Yet again to all my themer friends out there this is a must have from John P at the wjddesign team.
Great work yet again!!!!!!!!!!
Category: Tech News
Blackberry addict, love testing new themes and apps. Volunteer fireman, New Jersey Devils fan.