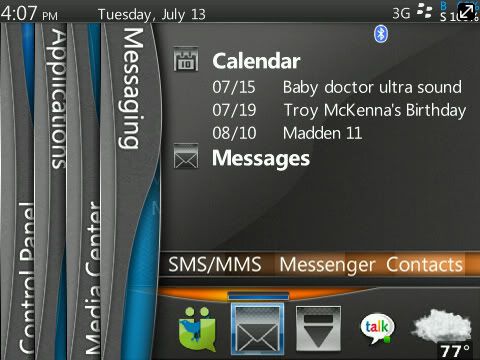 Any xbox 360 user out there remembers the old xbox live interface then this theme will sorta let you relive those days. Boxberry by KD brings a unique and custom design with a wonderful UI.  Unique is honestly a understatement for this theme. Boxberry gives you everything you need right at your fingertips. The ability to scroll left and right to bring up things such as media, browser, twitter, facebook and even your options makes life easier on your phone.
MAIN SCREEN.
On the main screen of the phone it has 3 fixed icons sms, messenger, and contacts with a calendar and message today feature. At the bottom of the screen you see there are 5 other icons. These icons are user defined which use  icon spots 1-5 on the application screen. One of the best things about this dock is no matter what tab you scroll too it follows you to that tab.
TAB 2 MEDIA CENTER
This tab focuses more on the media parts of the phone. Alot of themes usually dont focus on the media on the phone, and me being a heavy picture taker it really helps me out giving me quick access to my pictures. Wheather you scroll on pictures or music or videos or recorder each adds a nice little picture and picture frame style background. Very unique and very nice looking.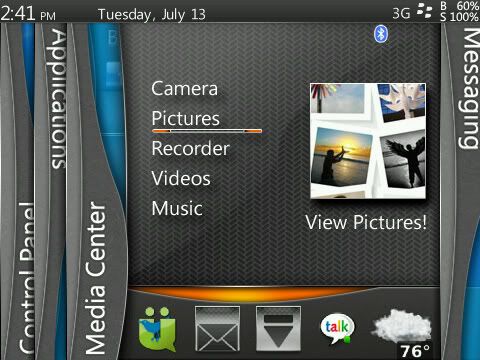 TAB 3 APPLICATIONS
Tab 3 is one of my favorites because it is very nicely designed and has alot of applications that i use i a daily basis. On this tab you have the browser, memo pad, clock, facebook, twitter, google maps and poynt. Now poynt i honeslty never had it on my phone and only every used it once so being that its a huge part of the theme i figured i would download and use it. It actually has become very handy and i am enjoying it (thanks Boxberry)  Also on this tab its very nicely skinned as you will see in the picture below wheather you select on facebook, twitter, google maps or poynt each one of them adds a nice picture in the center of the screen to help you know what your highlited on.
TAB 4 CONTROL PANEL.
Quick access to your options and other important features. This tab has profiles, password connections and options. This tab is also very unique in the design and the way its set up. Has to be my second favorite tab just by the way that its designed.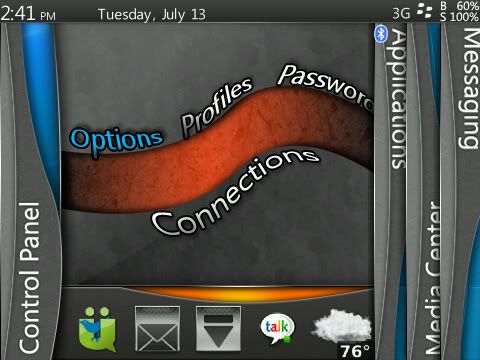 CONCLUSION
In conclusion all in all this is one of the top themes that I have had on my blackberry. From the nicely colored UI to the different tabs its simply amazing. For everything that's in the theme there is no lag time and its amazingly fast.
Theme: boxBerry by KD
Devices: 8350, 8500 Series, 8900/8950 Curve, 9000/9700 Bold, Storm 1 + 2, 9600 Tour Series
Special Thanks: Team WJD, John Piper (Major help on some coding aspects, I respect his knowledge and highly reccomend his themes, CLICK HIS NAME!)
Category: Tech News
Blackberry addict, love testing new themes and apps. Volunteer fireman, New Jersey Devils fan.