I recently purchased Launch-X Pro widget for my Droid Incredible because I like having everything at my fingertips.  Call me lazy if you wish, but I like to consider my self efficient (LOL).
The widget itself allows you to have anywhere from 3 -7 icons per row and up to 7 rows  side to side.  Yup according to the math that's 49 icons easily accessible on the home screen.  Not only can you add any of the apps you have installed but you can also add shortcuts to you address book for  making calls, text messaging or just a link to that contact.
There are several configurations you can choose from: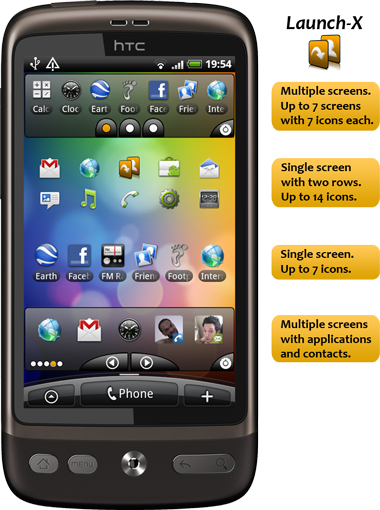 You can configure multiple widgets to add to your home screens organizing your device for maximum enjoyment.  This is fantastic widget that gives me the access that I want with a look that is very appealing.  A must get if you own an Android device IMHO.
Check it out HERE
Category: Android News, Mobile News
Born and raised in Kutztown, PA. I am the oldest of 4 with 3 younger sisters. My interests are computers, video gaming and family. Not necessarily in that order.